Yes. Weekends are precious & precious things never last. :/
Ate Nasi Lemak for lunch than went Coffee Club for desert. Mud pie. Shared it with Mia cos the mud pie was like so big. But it was really nice lar. How to lose weight like that? Lol. Saw the Chen Hong Yu (XIao XIn from the Holland V drama) at the 7-11 near my office. Filming. Pretty charming. Woo. Haha. Went straight home right after work. No clubbing. No shopping. No anything. Yup. No life huh? Cos I got no date. So sad. Lol. Anyway, I was also too tired to go out. Been sleeping really very little & I felt so weak somehow. Moodless to do anything. Hmmm.
Saturday was better. I met up with Yingxiu for lunch. Suntec was caught with human jam. It was like so terrible. Yup. Comex 2004. Made so many people went ga-ga over it. Heh. We settled our lunch at Country Mania. The food was nice & price was gd. Haha. We ordered half grilled spring chicken with mashed potatoes & carrots as sides, salmon penne lunch set (over-baked salmon penne, cream of mushrooms soup & a glass of lemon tea) & brownie with ice-cream. Sinful. But we simply can't resist from not ordering it cos it was like only $1.99? Haha. But it was ok la. We shared. Hehe. We took some pictures. Shall post some here: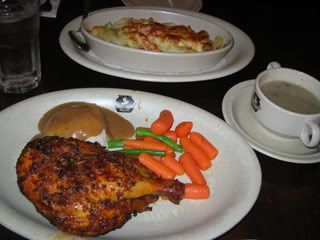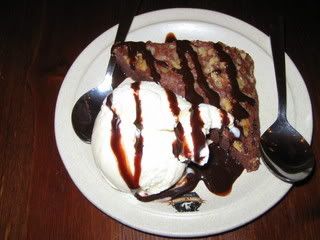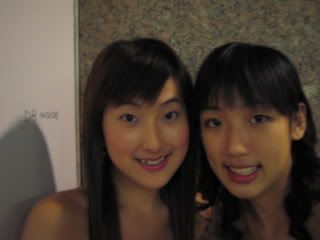 Went for tuition at 7.30pm. My legs were wobby & I was like damn tired. But to save bus fare, i still chose to walk. Heh. I took 20 min or so. From Hg Mrt Station Woo. I was like dragging & pushing myself to walk. Phew! i got there in time. It was like 7.32pm? Haha.
The boy was playful at that tuition. But he was rather cute lar. Keep complaining that he wanna slp liao, huh so many to do, can i don't do? etc. Kids are still kids. They talk kids' languages & do real silly things. I mean REAL. The boy told me that everytime when he was careless in his work, he would bang his head HARD on the table. He said he got bruises & bumps on his head sometimes. Silly boy. Haha. Oh ya. His mum bought ice-cream & my tuition susposed to end at 9pm. At ard 8.15pm he actually asked me: "Yolene jie jie... Are you going home already? If you never go back, I can't eat my ice-cream leh. Can you go home?" Wah. This xiao gui was chasing me home! Lol. Well. I was thick-skinned. I stayed put till 9pm. Haha. He also kept asking me to switch roles with him. I would sit for his exams & he would sit for my exams cos he told me his exams so difficult. Hmmm... As if he can do mine. Hai... Kids... Hee. The mum gave me an ice-cream too. Though I don't feel like taking but due to mannerism, i took. Hah.
Went out for a "date" with emily on Sunday. Haha. It had been 2 wks since we last met. Not long lar but we would meet once a wk to catch up but she was ill last wk. So yup. Heh. Starbucks for coffee. Pizza Tanglio for Pizza-Calzone (yummy!). Gusto for deserts-strawberry cheesecake for me & mixed fruits tarlet for her. So full! Chat & chat & chat alot too. 1 of our favourite hobbies. Haha. Then it was time for home sweet home.
There it gone my precious weekend... Am looking very forwards to the next one...